---
View Modes
PhotoELF Has Four View Modes:
Thumbnail Mode
Browse Photos
Manage Photos
Fill Window



You may click one of the toolbar buttons to change modes or you may look under the View menu.

---


Get Use to two buttons:

First, click the Browse button and then click the Manage button on the toolbar, then click Browse again.

When you click the Manage button, a second folder system appears on the right hand side of the program. Clicking the Browse button hides the right hand file system.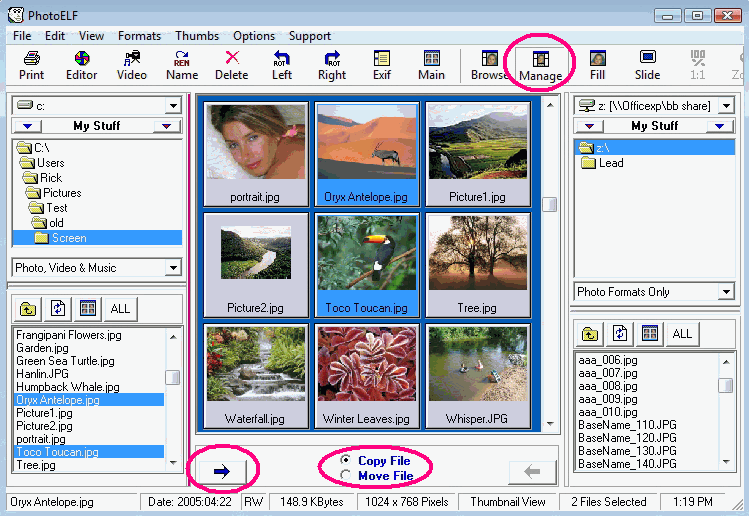 ---


Browse Photos: allows you to browse through the folders on your hard drive, floppy drive or CD-ROM and rename, delete, cut, copy, paste & print.



Manage Photos: has all the same functions as Browse Photos with an additional folder window for transferring files.

This mode is nice when you are searching for specific photos to copy onto a floppy disk or into a new folder.

Example:
You may point the right folder window to the A: drive and then use the left folder window to browse through photos. You can then copy the photos, as you find them, to the A: drive with just a click of the arrow button.


Note: While in the manage photos mode you may select Copy or Move by selecting the appropriate option button.

The Move mode will transfer the selected file or files to the new folder and then remove the original file after the transfer is complete.

The Copy mode will create a copy of the original file and transfer it to the new folder, leaving you with two duplicate files.


Fill Window: clicking the fill button will hide PhotoELF and fill the screen with your photo.

Press any key to return to PhotoELF.

While in fill mode, you may:
Left click the screen to view the next photo in the folder
Right click the screen to view the previous photo in the folder
Press the "S" key to start the slide show
Press the "P" key to pause the slide show
Press any key to return to PhotoELF
Click the hammer on the toolbar for preferences and click the slide tab to remove the instructions from the screen.





Home Privacy Policy PhotoELF Download PhotoELF