---
Making Wallet Size Photos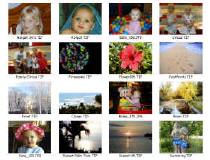 How to create wallet size prints on one sheet of paper:
Example: Create 16 wallets of the same photo:
While in PhotoELF's main program, select one picture and click the Print button on the toolbar.



After the Print Page Layout window (PPL) has been loaded, look on the right hand side of the print window for the Duplicate control.



Click the Duplicate button and a small window will appear
Select the option: 16
Click OK and the the photo will be duplicated 16 times and organized.
If you wish to duplicate a different number, click the Undo button, under the Duplicate button, and you can try again.

Click the Printer Setup button to change paper orientation if need be.

Photo Spacing may now be adjusted, to produce the size and border you desire.

Try Different Combinations

Load four different pictures into the Print window and then click the Duplicate button and select option 16.

Variations of this may be accomplished by creating up to 64 photos on the page, (all different photos or the same).

Also See: Making Proof Sheets





Home Privacy Policy PhotoELF Download PhotoELF