---

Sepia Tones

Quickly convert any photo into a sepia photo

To do this, load your photo into the Editor.
Look in the Photo Effects tool panel for the following button and press it: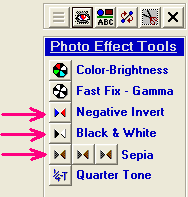 Then, simply save your new image.

---
There are three Sepia buttons:
The first button performs a standard sepia effect
The second button performs a harsher contrast sepia effect
The third button performs a 180 Degree shift sepia effect, giving an old time silver, black & white look to the photo.
The more you click a button the harsher the effect. Go ahead and click away; you can always click the Undo button.

You can also create some fun effects. Try the following:

1) Use the brightness tool and increase the brightness of a photo
2) Then, click the second sepia button many times

The result appears to be a sketch or an interesting two color image.

Try different combinations.





Home Privacy Policy PhotoELF Download PhotoELF