---

Editor: Shapes and Text


Look in the Editor's View menu and select: Shape and Text Tools

The Shape and Text tool panel will appear on the right hand side of the Editor.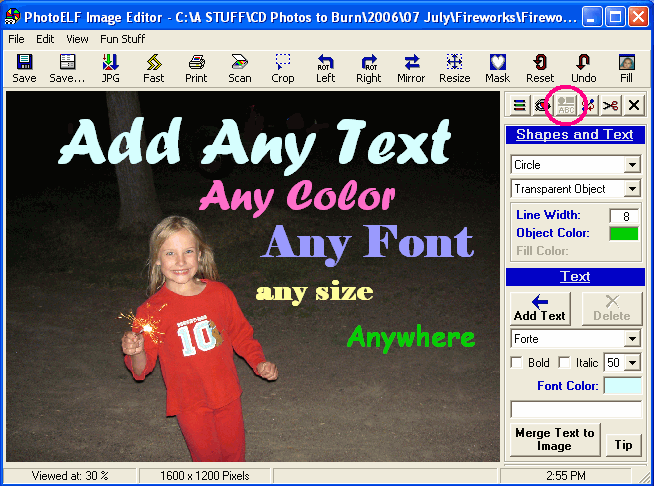 When the panel appears, click the Tip button in the lower left corner for a quick reference tip.

Shapes: Circles, Squares, Lines

This tool panel will allow you to draw solid, transparent and outlined objects of any color:
Circles and Ovals
Squares and Rectangles
Lines and Arrows (see: Drawing Arrows)
Note: To create an arrow, you need to draw a line and then draw the arrow head.
---

Adding Text to a Photo

You may also add text to a photo. Click the Add Text button.

After a text box has been added, you may click and drag the text to any location on the photo.

Change the text by typing in the text box under the Add Text button.

Change font, font size, color and bold/italic.

You may also add as many lines of text as you wish.

When ready, click the Merge Text button to fix the text to the photo.





Home Privacy Policy PhotoELF Download PhotoELF