---
How to Print Photos
First, you will need to select the photos you want and load PhotoELF's Print Window: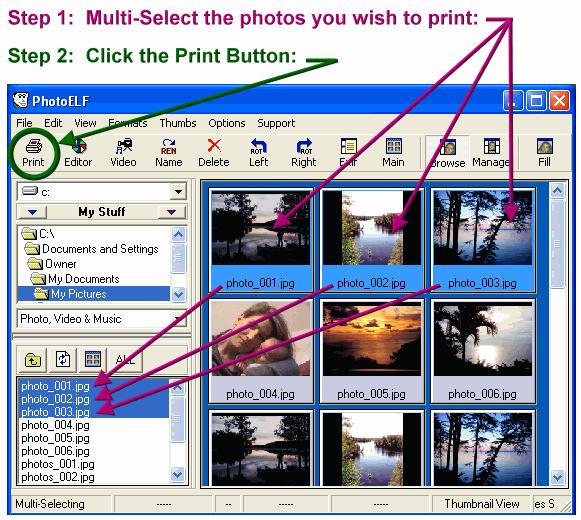 You may load up to 144 different photos onto one page.

Step 1: Multi-Select the filenames or thumbnails that you wish to print on one page.

Step 2: Click the Print button on the toolbar.

---
Read: How to Multi-Select Files if you are unsure how to perform Step 1.

You can also multi-select thumbnails.
---
Once the print page has loaded, you will be able to do the following:
Click and drag any photo to position it.
Click a photo and then drag a corner to change size
Overlap photos
Add text
Crop, rotate or add masks
Right click any photo to view a menu of features
Save Projects and Templates
Merge the entire layout into 1 big photo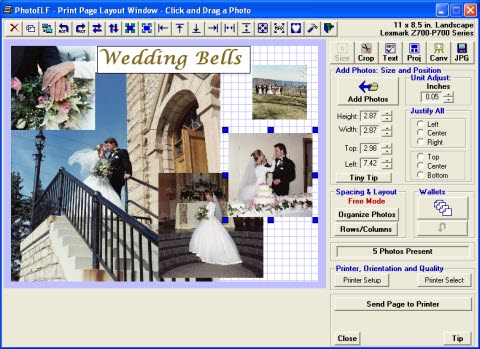 Don't be afraid to experiment with this program.
Explore the 6 buttons in the upper right corner

SIZE: Change size and location of photos, justify, duplicate etc.
CROP: Make exact sizes
Text: Add Text and captions to the layout
PROJ: Save layouts as Projects to be openned later or save templates
CANV: Instead of Printing, you can use the Print Window as a Canvas to layout specific size projects
JPG: Merge your entire layout into 1 big photo and save it as a JPG for professional printing
---

To learn more about printing photos, Click Here
You can also print a folder of pictures: see: Batch Printing





Home Privacy Policy PhotoELF Download PhotoELF